We have full range of HPPE Pipe & Coil upto 200 mm in all pressure classes like PN 2.5 / PN 4.0 /PN 6 / PN 10 in PE 63, PE 80 & PE100 grade material. Our quality of product matches with international standards. We are manufacturing PLB HDPE DUCT for cable laying in 8 colours. We are also manufacturing MDPE Pipe as per ISO 4427.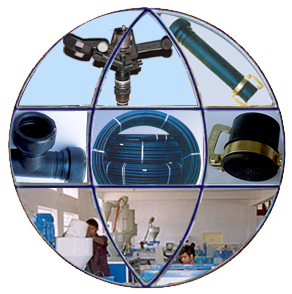 World class Raw Material from, Haldia, Hostalene, Mariex, are used in our products.
We having the motto of best quality product using best machines have installed. All the ancillary equipments best in quality as chilling plant, compressor, marking machines, Automatic coiler etc. are attached with each 3 extruder lines. The marking machine from prominent machine maker, best in India. The quality lining machines gives perfect lining on coils. We are having good cable flowing machines for insertion of cable in PLB pipes. Our Windsor make 2 injection Moulding Machines are the best in this category which are used in manufacturing various moulded items used in agriculture products.
We have the annual production capacity of 1000 M.T..
Our testing laboratory is equipped with all required testing equipment, for continues checking of quality of all the products managed by expert lab personnel's. We have all the equipments and machines as per the international standards.
Our technical, commercial and marketing management matches with any professionally managed company. Management team is having good experience in this line and work in a team manner to achieve the goals of the organization.
Our Production engineers and operators are quite experienced and efficient workers. They always try to upgrade the technology and quality of product. They remain in continuous touch with machine supplier for up gradation in technology and production.
We have experienced and qualified sales staff who look after sales network and after sales service with a motto of customer satisfaction. They make commercial and Technical discussion with the customers for selection of pipe, specification ,pipe laying, commissioning\testing of system.